Welcome to Cayobo's Reggae Lounge!
On this site you will Listen to some Sweet Island Music, Learn about Reggae Artists, and copy Authentic Caribbean Recipes.

! Get Married In Key West !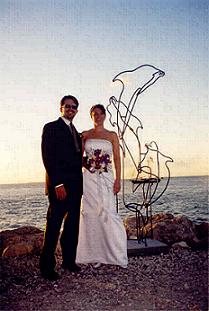 ! Click the photo for more information !
Click the wizard to read an essay I wrote in text and animation about my home,
Key West, Florida.

Let me introduce myself to you:
Hi, I'm Cayobo.
Cayobo is a nickname taken from two words, "Cayo" means "key" in Cubano, and "bo" is from "Jimbo".
Hence the nick Cayobo.
I live in Key West, Florida which is 150 miles from the U.S. mainland and 90 miles from Cuba.
I settled down here because of the relaxed lifestyle, the tropical climate, and the great people who have made Key West their home.
Our Island home is 1 1/2 miles wide and 4 1/2 miles long and sits in the middle of the warm waters of the Gulf Stream.

If you are visiting this site and have been taken from your mom or dad by force,
are being beaten by an adult,
or forced to do things sexually against your will by an adult;



Please click the above link and let us know.
We care and we can help.

Please feel free to e-mail me.


All the recipes I share are free for the taking.
I present them out of my love for the people and foods of the Caribbean!

Key West Sights and Sounds
If you're thinking about a visit to Key West, then the above three page series with photos and text is just what you're looking for. Helen's 25-plus years on our Island assures you of the finest adventures and the most competitive prices throughout the Florida Keys. Be sure to call her toll free so she can make your reservations and save you some money.

And now for my tried and true Caribbean Recipes:
Cayobo's Passion for Passion Fruit
Key West Tropical Gazpacho
Cayobo's Caribbean Sweet Potatos
Cuban Mojito
Fresh Salsa
Tortilla Style Chicken Enchaladas
Frijoles Rancharos
Jamaican Beef Patties
Ginger Mango Conch
Jamaican Jerk Marinade
Caribbean Spice Blend
Cooking With Ganja
Cayobo's Pig Roast
Mango Tomatillo salsa
Hot Papaya Chutney
Key West Tropical Fruit Kabobs
Cayobo's Cayo Hueso Fish Spread
Avocado Pie
Mango - Banana Daiquiri
Fungi Dumplings
Creole Crab Callaloo
Spiced Seafood Salad
Mango Vinaigrette
Vinegar Fish
Chapati
Ghee

This is our newly remodeled kitchen.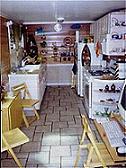 Click the photo to see how I've renovated our Conch House!

Grilled Seafood Soup


Cayobo's "Devil's Nightmare" Pasta


Ghohi Masala
Grilled Liver
Spiced Grilled Liver
Marinaded Zucchini Salad With Chipotles
Picante Sauce
Sangria
Authentic Black Beans
Caribbean Mojo
Key West Coconut Drops
Pineapple Fool
Key Lime Lush
Papaya Seed Dressing
Papaya Hot Sauce
Curried Goat
Goombay Smash
Conch and Avocado Salad
Old Sour
Jamaican Me Crazy Shrimp
Key West Papaya Dessert
Fiery Scotch Bonnet Sauce
Cayobo's Banana Fritters
Paella
Jamaican Me Steak?
Ginger Guava Sauce
Frijoles Con Dulce
Cayobo's Caribbean Tour
Click the above link to join us on a virtual tour of the Caribbean.
We'll visit the Island Nations and learn about the various cultures and history of each place we visit.

Cayobo's World Wide Links Page
Be sure to visit my links page for many things to see, do, and learn while you search the World Wide Web.
Cayobo's Key West Links
All that there is about Key West is on this links page...
Places to stay, Key West web cams, and all there is to see and do on our Island.